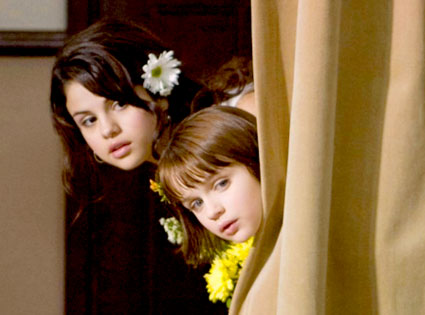 Review in a Hurry:
Ramona and Beezus
is really more about Ramona, but since star
Selena Gomez
plays Beezus, her marquee mention must have been a requirement from the suits in the corner office. One thing the executives didn't ruin, however, was the movie itself, which is surprisingly wise and whimsical.
The Bigger Picture:
Movie marketing is a production in and of itself. The producers wanted to make the first big-screen adaptation of
Beverly Cleary
's beloved
Ramona
books, but they needed to sell tickets too. Thus,
Ramona
likely became
Ramona and Beezus
, capitalizing on Gomez's tween star power. Beezus is certainly part of the story, but so is Aunt Bea (
Ginnifer Goodwin
), Mrs. Meacham (
Sandra Oh
, having prim fun) and especially Robert Quimby, Ramona's dad (
John Corbett
). All these characters orbit Ramona and her misfit adventures, stumbles and triumphs.
Fans of the book may think
Ramona and Beezus
is based solely on the book
Beezus and Ramona
, but the movie combines elements from many, if not all, of the
Ramona
books (further confusing the viewer who may or may not tearfully cling to her childhood memories of those precious books...ahem). Reassuringly, the varied story lines, from Aunt Bea's run-in with an old flame to Robert's employment issues, all elegantly intertwine.
The actors gracefully settle into their roles, and they all really seem like family as they relate to each other. Relative unknown
Joey King
, as Ramona, is on the right side of precocious, using her adorableness in carefully measured doses. She easily carries the movie.
The marketing of
Ramona and Beezus
may have the gloss of Hollywood, but the material stays true to the magic of Cleary's books—namely, their ability to expose not just the imperfect moments of middle-class family life, but the pockets of unexpected beauty as well. Whatever its name,
Ramona and Beezus
just happens to be a good movie.
The 180—a Second Opinion:
Director
Elizabeth Allen
almost loses us with a slow-paced, cliché-ridden beginning. The flick picks up the pace and interest as it gets going, so be patient.