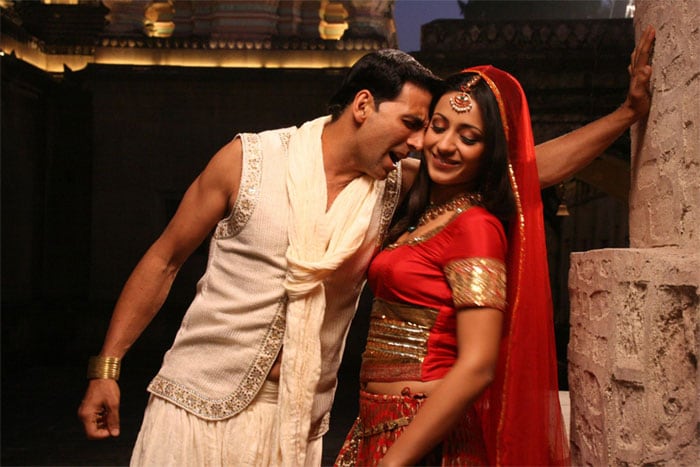 Akshay Kumar tells Rana Siddiqui Zaman how he enjoyed connecting with the common man in Khatta Meetha that releases on Friday
After delivering hits year after year — Sangharsh, Khiladi 420, Hera Pheri, Dhadkan, Garam Masala, Welcome, Singh is Kinng and many more since 1999, success seems to have become a habit with a-now-amiable Akshay Kumar. He has learnt to chat effortlessly with journalists and answer uncomfortable queries in a light-hearted manner.
Says the actor: "Working in comedy films has taught me to be a cool person and be less formal." kabhie kabhi attitude dikhana bhi zaroori ho jata hai
He has been travelling around the country to promote Khatta Meetha, a remake of the hit Malayalam film Vellanakalude Nadu by Priyadarshan, who has also directed the Hindi version, releasing this Friday. Vellanakalude Nadu starred Mohanlal and Shobana.
Akshay, dressed like a typical sarkari babu in a simple loose shirt and trousers, a pair of old-fashioned sunglasses and carrying an umbrella and a worn-out pouch (like his film's character), talks about how the film reveals the corrupt practices in the Municipal Corporation of India (read Mumbai). "As the title suggests, the film deals with the sweetness and sourness of life. It has nothing to do with the old Hindi film by the same name that starred Ashok Kumar," he elaborates.
Akshay plays Sachin Tichkule, a road works contractor who is always looking to bribe municipal commissioners to bag contracts to repair pothole-ridden roads or lay new ones. In the process, he meets an honest municipal commissioner, played by Trisha, who makes her debut in Bollywood with this movie.
The story of the film was written by Priyadarshan in 1985 but is "still relevant", says Akshay adding that the script has been modified to suit contemporary times. "The film not only focusses on corruption in the Public Works Department (PWD) but also raises the basic issue of how we can talk of economic growth when most roads in the country are in a pathetic state."
In the recent past, small-budget comedy films have fared better than those that featured well-known stars, to which Akshay says: "There is no success formula for comedy. There can never be one. Golmaal, Hera Pheri, Housefull and Welcome worked but Chandni Chowk to China did not do well in some cities."
But why is he doing more of such films? "To run my kitchen. I did a serious film such as Tasveer 8/10, but even four-and-a-half people didn't come to the theatres to watch it," he laughs.
Akshay, who has also co-produced Khatta Meetha, quips: "People who have been fretting over my 'huge remuneration' should feel good that my earnings in this film are zero." Singh Is Kinng, De Dana Dan Namastey London.
He turns pensive at the mention of his recent meeting with the ailing R.K. Laxman. He was criticised for posing with the famed cartoonist in the hospital to promote the film. "I went to meet him to pay tribute to his common man, which he has been drawing for so many years, as I play a common man in this film. People read too much into it. It was his wife who called me to meet him." .
Akshay's forthcoming releases include Hello India, Action Replayy, Tees Maar Khan, Patiala House and Thank You. But, he is in no mood to experiment. "I will keep doing the kind of roles audiences like to see me in. Visibility matters. Khatta Meetha has no glamour quotient; it's a satire on issues that affect the common man. I don't know whether it will work, but people instantly connect to such films. To me, doing such films 3 Idiots makes more sense than doing out-and-out serious ones…" he signs off on a thoughtful note.